See What People are Saying...
It's Wedding Season, Do You Have Your Modern Ties?
Posted By: Greg Alston July 12, 2019
https://geardiary.com/2019/07/12/its-wedding-season-do-you-have-your-modernties/
If you're like me, one thing you dread about most weddings as a guy is the need for ties. Having essentially a collar around your neck is already a hassle, on top of the need to wear a tie under that fabric is a bit much. But what If I told you that a company wants to diversify your tie game, without the need to pop your collar to get it adjusted?
That's what ModernTie is here for. If you're not too familiar with ModernTie, let me just say this: It is NOT a clip-on tie. It's not those pre-tied ties that you see in your favorite department store that don't match anything with the wacky patterns and the sketchy fabrics, ModernTie is truly like their successful Kickstarter stated — It's the tie, reminagined. And if I can add, more normalized.
While I know how to tie ties, I absolutely hate doing them, so when I had the opportunity to test out ModernTies's modular necktie, I was actually pretty excited to see what they had in store. The two piece set up is a companion to your two-piece suit (or any suit for that manner). Rather than use a fabric knot, the company is bringing a bit of awareness to prescription drug abuse by recycling the old medicine capsules that may or may not be heavily abused by teens who have access to pills through un-used medications. ModernTie's stance is to help stop the misuse of medications by up cycling the containers and turning them into the Knots that will sit at the top button of your shirt, ready for you to add your tie.

With an assist by one of NYC's top fashion designers, the ModernTie slides over the top button of your collared shirt, with the tie magnetically slides underneath the knot making for a truly "more modern" look, that looks stylish in multiple colors and patterns. The magnet itself is hidden inside of the knot as to not be exposed by the elements, so the tie itself will not mysteriously tug or fall off on the dance floor. Made of two neodymium nickel plated magnets when I used the tie to go to one of my wife's work functions, I received quite a few compliments on the fact that while up close it doesn't look like your traditional "tie knot", in photos, as well as in passing, nobody would be able to tell you the difference.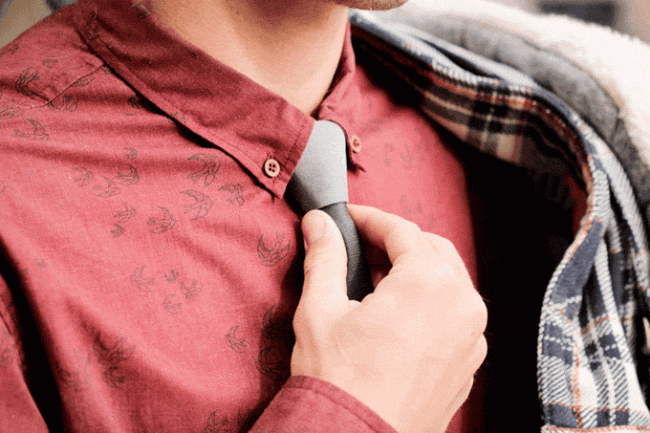 The ModernTie for me is pretty ideal as I have a rather prominent neckline, and absolutely dread having the necktie not only surrounding my neck, but then tightened to create a better looking appearance in terms of length and form of the tie. With the knot, you get two different styles, "Geo" and "Round" that are available in your more traditional colors of Gray, Black and White. I received the soft silicone finish, but there's a woven fabric finish that may look better in cooler months, but the silicone is a great look for everyday wear so I went with that option.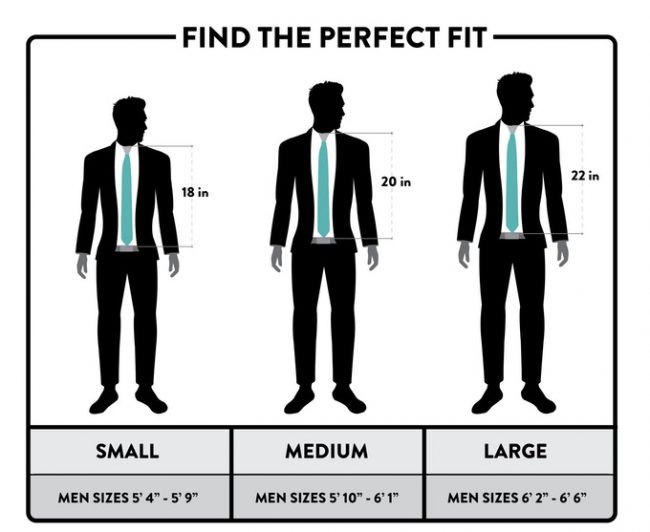 What's more is the fit of the tie accommodates the user by height as you can see in the perfect fit scale. Since I am not your average male (under the height of 5'10), the small allows the tie to sit at a height that I'm comfortable with, not draping over my belt when I'm standing, or looking like a bib when I am seated.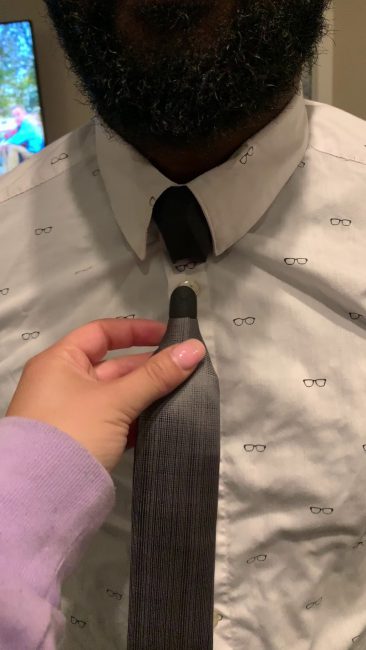 I personally feel like no matter if you work on Wall Street, or just applying for your first job out of college, the Modern Tie is going to do the job, and maybe even get you the job. There's a style to meet everyone's needs, and honestly, just look fantastic, to the point I plan on purchasing a variety of the ties now, and now I won't have to have reservations on style as ModernTie somehow just has all the styles and trends that look great, so you aren't out wearing the inevitable "old man tie". And they are even available for KIDS!
If you are interested in checking out ModernTie, they typically cost $44.99 per set, with a special European floral set starting at $29.99 just in time to purchase for the summer. But you can head over to ModernTie.com for more information.
Source: Manufacturer supplied Review Unit
What I Like: No more terrible under collar bulk from ties; Stylish selection of ties, including 2 ties with 1 knot sets for versatility
What Needs Improvement: Nothing that I can find
---